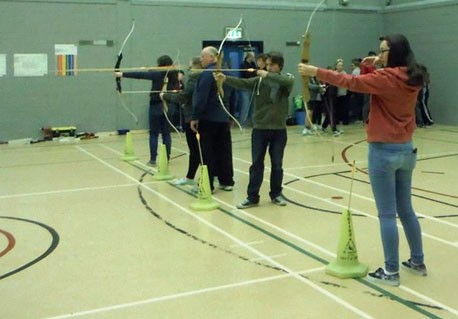 ARCHERY
Archery is another one of those activities that envokes individual and team achievement.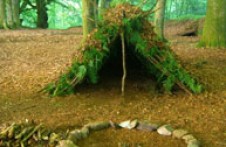 BUSHCRAFT
Bushcraft is an exciting activity that's teaches people a wide of skills nessessary to survive in the wilderness/outdoors scenario. Newly acquired skills; such as lighting fires, building a shelter using natural materials, cooking a variety of meals etc. by working together bushcraft also teaches life skills such as ; team building, resilience, communications, problem solving , creativity and overcoming personal challenges.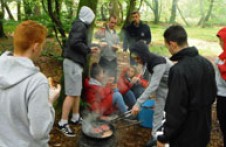 CAMPING
Camping is a great way to enjoy the great outdoors. There's nothing like rising early and cooking your own breakfast while mother nature does what she does regardless.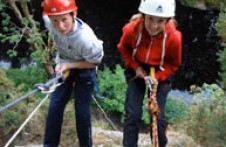 ABSEILING
A super adrenalin rush in a controlled environment. Abseiling is great for youth groups – the sense of achievement or conquering of fears. It's also great for team building for the same reasons.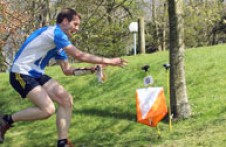 ORIENTEERING
Orienteering;  using a map and compass to plan and find your way through forest, woodlands and open country side, it's healthy, it's fun.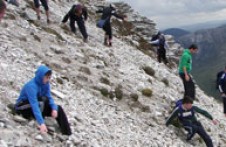 ROCK CLIMBING
Adventure Sports Northwest provide a variety of rock climbing courses and lessons. We have courses for people with little or no experience and just want a Fun Day, to those who have some experience and are developing themselves as competent climbers. Climbing is organised in Culdaff and Roe Valley Country Park.
GORGE WALKING
Imagine scrambling up the side of a spectacular waterfall, navigating through deep clefts at the side of a beautiful mountain, climbing up raging torrents and then jumping into deep mountain pools, there's no better way of finding an adventure outdoors! Gorge walking is organised near Clonmany Inishowen Co Donegal, it is suitable for all ages who are looking for a thrilling way to immerse themselves in the Outdoors!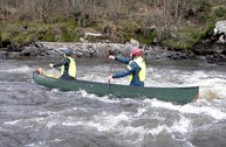 KAYAKING & CANOEING
An ideal activity for all the family, our large Canadian canoes take 2 – 4 people making it a great activity for the whole families or for Youth Groups and teams of adults. Learn a few strokes and enjoy the tranquil scenery of Lough Foyle on Canoe, or Kayak solo on some of the best rivers that feed into Lough Foyle: The Foyle, The Finn, The Mourne, The Derg, The Owenkillew and the Roe.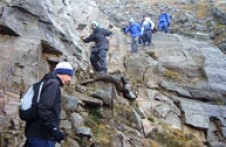 HILL WALKING
Walking alongside our experienced and knowledgeable instructors, you will enjoy our beautiful mountain scenery. Taking a comfortable pace through remote rugged countryside you will experience see some of the most impressive views the North West has to offer. From Errigal at over 750 meters high, Eastwards to Muckish then to the Urris hills and the Gap of Mamore in Inisowen on to the Sperrin mountains with Sawel at 678 meters.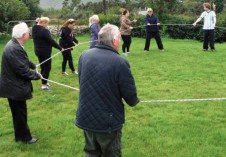 TEAM BUILDING
Team building focuses on the outdoors as a vehicle to explore, key life management and personal skills. Great for working together, developing strengths and talents of individuals, communications, group goals, decision making, leadership, problem solving, encouraging sensitivity, creativity, flexibility, analysing tasks.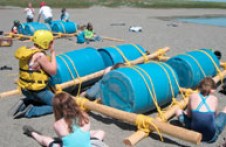 RAFT BUILDING
Raft building ; involves rafting two canoes together using paddles or hoisting a sail. Everyone can get involved and learn basic paddling / sailing type skills such as ; wind direction, steering, an exciting way of understanding the sport of canoe paddling / sailing.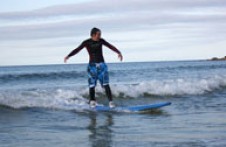 SURFING
Adventure Sport North West have an extensive range of wetsuits for our all our water activities in youth and adult sizes. The loud patterned shorts are optional.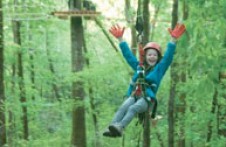 ZIPLINE
At Adventure Sport North West we have many Ziplines activities. We operate to the highest safety standards though restrictions will apply.